Buffalo TOUGH Carbide Lab burs
Made-in-USA Premium Carbide Burs Provide Outstanding Cutting Speed, Durability and Value!
Features and Benefits:
Ultra-Fast Cutting Automated manufacturing and highest-quality materials assure ultra-fast cutting and long lasting edges to save your time
Excellent Value USA manufacturing location and automated machining centers assure premium quality
Optional Titanium Nitride Coated Heads Available with premium USA-applied thick titanium nitride coated heads for longest-lasting edges and superior cutting
Dual Cut & Diamond Cut Heads Available Traditional dual cut heads improve performance and minimize clogging, and diamond cut versions pulverize materials and excel at acrylic work
Optional Dust Shields on All HP Burs Patented dust shields available on HP burs protect help handpiece bearings from damaging dust (no extra charge- add –SH to end of HP Item No.)
Abbott-Robinson™ Dust Shield Burs
Protect and extend the lifetime of your handpiece.
Exclusive and Patented Abbott-Robinson™ Dust Shield burs keep 95% of dust and grit from entering a handpiece, which prolongs handpiece life by preventing contaminants from making their way inside!

In a lab situation, there can be many different types of grit and dust that are created from different procedures. All that grit and dust can make it to the gears and motor, which recent CDC tests have shown, if not protected. This will not only carry over to the next procedure, and possibly raise the issue of infection or degradation, but also ruin your handpiece in the process. Abbott-Robinson™ Dust Shield burs conveniently cover the chuck opening, as shown by the images below, preventing dust and grit from entering the collet. This lowers the chance of cross contamination significantly, creating a safer environment as well as extending the lifetime of your handpiece by keeping dust and debris from damaging your motor. These preventative measures also come with the added benefit of SAVING YOU MONEY!
Features and Benefits:
Dust Shield shanks protect expensive handpiece spindles, bearings, and chucks by covering the chuck opening blocking out damaging dust and debris
Up to 95% reduction of dust, debris and grit inside the front of the handpiece lowers handpiece maintenance costs and increases uptime while also helping prevent cross contamination
USA-manufactured instruments feature ultra-fast cutting and long-lasting edges to save you time and money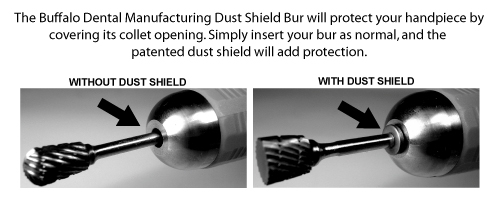 Buffalo Dental Gold Cap Burs
Quality Titanium Nitride coated carbide burs made in the USA
Premium carbide burs provide outstanding cutting speed, durability and value!
Using only the highest-quality materials to manufacture these burs, as well as an automated process, ensures that each and every bur produced offers the same great cutting speed, durability, and precision as the next! The premium TNT coating helps keep edges sharp and provides lubrication for superior cutting!
Features and Benefits:
Ultra-fast cutting and long lasting edges as a result from using only high quality materials and an automated manufacturing process
USA manufacturing location provides and assures premium quality
TNT Titanium Nitride coating provides long lasting edges and superior cutting
Dual cut and Diamond cut heads are available. Dual cut heads improve performance and minimize clogging while Diamond cut heads help pulverize materials and excel at acrylic work